We've listened to your feedback, and the new CMHC website is full of helpful features designed around you. The new site is mobile-friendly with intuitive navigation and a comprehensive advanced search.
While we have launched, we continue to make things better for you.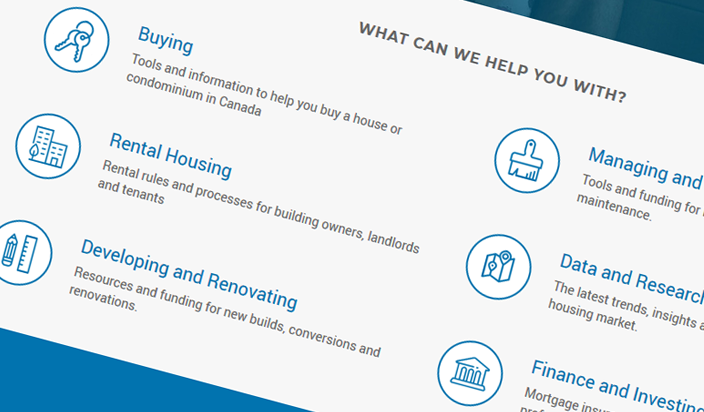 The new features are designed to make your life easier. Whether you're a mortgage broker, housing manager, builder, real estate agent, researcher or first-time homebuyer, we're here for you. Let us help you meet your housing needs.
Personalize and share content
You can create a sharing signature with your picture, contact information, website and more to send professional emails directly from the site. You can use this to share articles, calculators, how-to guides, reports, data and more with your clients or contacts.
myCMHC Account
If you regularly use CMHC's tools and information, a free myCMHC account lets you save the pages you use most in one convenient place. It also lets you subscribe to content so you can be notified when specific information is added or updated. A myCMHC account will also let you manage your newsletter subscriptions in one place.
Revamped mortgage calculators
The revamped calculators are easy to navigate, and they let you make side-by-side comparisons to explore more options. Calculations can be saved and even shared directly from the site.
All-in-one place for housing data and research
A new one-stop shop for all your research and data needs makes it easier to find what you need. You'll find more data visualizations and insights in context across the site, and you'll have easier access to housing market information. As you find the answers to your questions, you'll also see content recommendations that can help you explore each topic further.
Applying online for funding or financing to develop or maintain housing
If you're looking access to funding or financing, you'll soon have access to an online application process for National Housing Strategy initiatives, such as the National Housing Co-investment Fund, Rental Construction Financing and many others. Over time, you'll be able to track the status of your applications in one place.